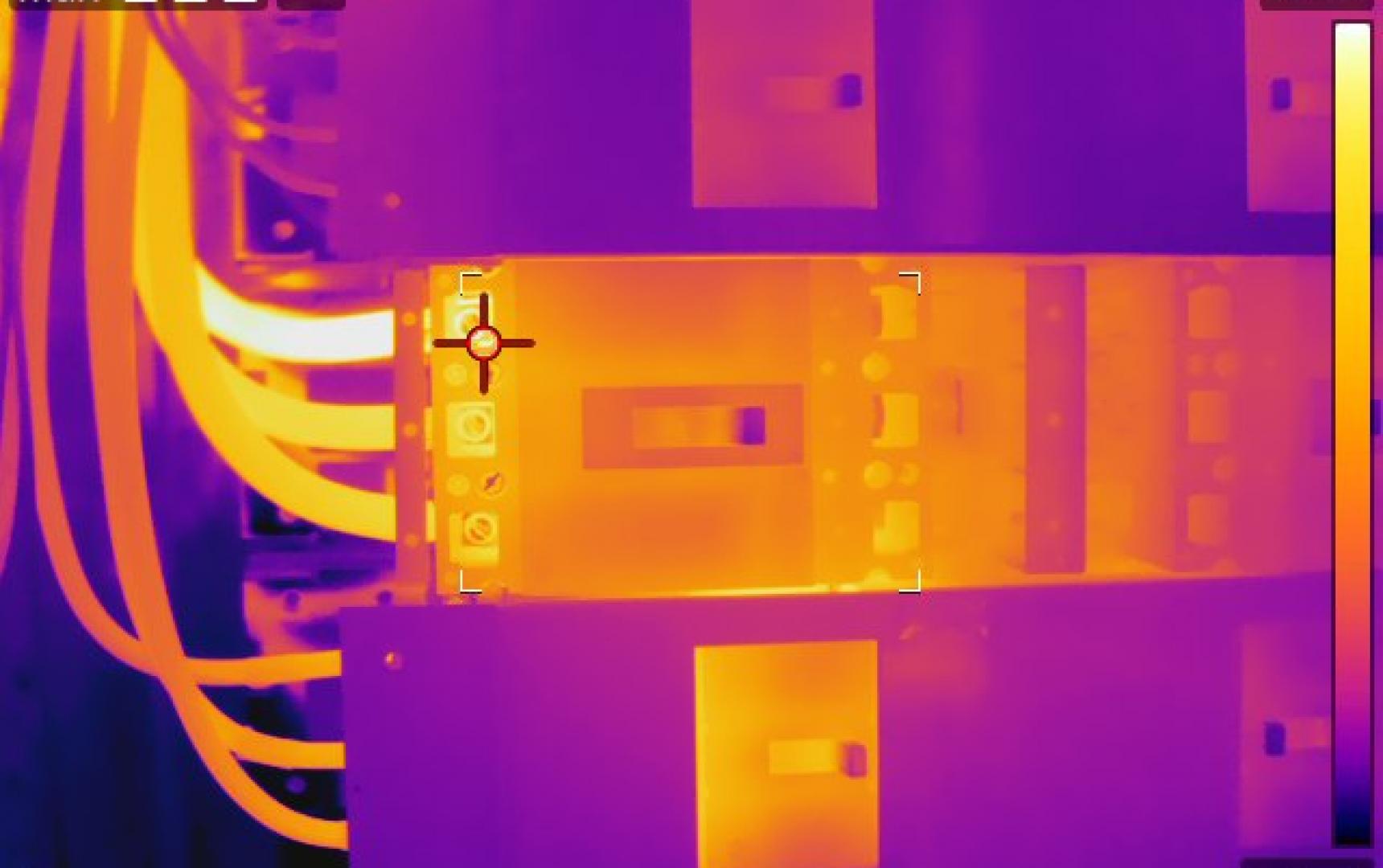 Save money with electric thermography.
Contact us to schedule an appointment!
Only one way to find out. Contact us now or click here to request an estimate or call 978-440-9900!
IR Thermography Inspection helps:
Increase equipment life
Reduce downtime
Electrical thermography inspections save money
Prevent catastrophic failure
Lower repair costs
Lower risk
Prevent lost production
Non-destructive Infrared testing
As a facility manager, maintenance manager, or building owner, safety, reliability and repair costs of the facility are a concern. Annual infrared electrical testing is critical, and it can increase safety and prevent unwanted power failure.
Thermography inspections of electrical switch gear, distribution systems and mechanical equipment is cost effective. This is a non-destructive technology and will not require power shut down.
Infrared thermography is used to perform preventive inspections of electrical systems, switchgear and transformers at commercial, institutional, manufacturing and medical facilities. The report provides a baseline of the current status of electrical systems, and it detects urgent repairs and recommended schedules service needs. Annual thermography inspections will help you track the condition of the electrical systems. Additionally, it will provide you with warnings and the ability to schedule repairs during down time, in order to have minimal impact on the facility.
As an electric component or connection starts failing or is overloaded, it heats up. Infrared Thermography is used to identify the excess heat and locate the problem for repair without downtime and equipment failure. IR testing is non-destructive testing. Electrical infrared inspection is a predictive and preventive maintenance service.
Infrared Diagnostic LLC is a distributer of IRISS infrared inspection port and Infrared Inspection Windows. Infrared inspection windows are special glass viewing points that allow infrared radiations to transmit to the outside environment. Simply put, it is a data collection point for the infrared camera without removing the panel cover. For switchgear, requiring frequent inspections or not removing the panel cover is beneficial, and the IRISS infrared inspection windows are a great investment.
Infrared Diagnostic LLC is trained as an electrician and certified to perform infrared thermography inspections for hot spots on electrical systems.
Infrared Diagnostic LLC provides a professional, detailed written report with both infrared images and visible images of any electrical issues. Infrared Diagnostic LLC stands out from other infrared service companies in that we are an authorized contractor of United Infrared and ElectricIR. Additionally, Infrared Disgnostic LLC provides Level 3 certified Thermographs' nationwide for your consistent professional infrared service needs.
What is the Benefit of Infrared Electrical Inspections?
Loose or dirty electrical connections and other electrical anomalies can cause power outages or damage equipment and result in a loss of revenue. Infrared Diagnostic can inspect the electrical panels, transformers, switchgear and other electrical systems to detect issues before there is a costly outage. Thermal imaging can detect overheated areas in the electrical system that are not visible to the human eye and could be a precursor to a larger issue. The detailed resulting report provided by Infrared Diagnostic LLC is a a great aid for electricians and reduces downtime by pinpointing the exact problem area in your electrical system. Infrared Diagnostic LLC uses a high power FLIR T660 640x480 infrared camera for all inspections in order to provide sharp infrared images to our customers.
Infrared Diagnostic LLC offers a number of other applications apart from electrical trouble shooting as well. For example, thermography of mechanical systems can detect the heat created by excessive friction, overheating motors and barring, low slope roof scan for moisture, infrared energy audits etc.
The left infrared image below shows a fuse panel with a single fuse overheating. The right image shows a digital image of the same panel with no visible issue.
Infrared Diagnostic LLC provides a professional energy audit service, along with a written report that goes into great detail. Call us at 978.440.9900 or email us today if you would like further information.