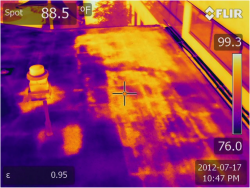 Do you own or manage a commercial building with a flat roof? If so, odds are you're already thinking about winter. Wind, rain, sleet, snow--it's all coming. Are you ready?
Solve Common Flat Roof Problems For Good
Despite a simple, inherently cost-effective design, flat roofs come with some potential complications. They're a magnet for precipitation, and regardless of what type of climate you live in (aside from the desert!) that can cause problems.
Infrared Diagnostic is based in Sudbury, Massachusetts, however we can travel almost anywhere. We service local cities just outside Boston, including Lowell, Worcester, Lawrence, MA and Nashua, NH. In these areas, commercial buildings abound, and so does harsh winter weather.
That means we see water accumulation in all its forms. Whether it's rain, snow, ice or somewhere in between, any kind of a build up of it on your building can lead to leaks. To further complicate things, roofing materials used on many commercial buildings makes leak detection a challenge.  
The Best Way to Find a Leak on a Flat Roof
We use the most advanced flat roof leak detection equipment available to identify and pinpoint the source of moisture problems. Even better, our non-invasive infrared diagnosis method leaves your building completely intact and won't disrupt your day-to-day business.
Once your building is scanned, we will develop a prioritized action plan catered to any budget. With winter fast approaching, few business owners have time or resources to re-do an entire roof. The Infrared Diagnostic expert is here to help you understand what repairs you actually need. We specialize in addressing critical trouble spots first. That's how we protect your investment and help you avoid property and equipment damage along with serious pitfalls like catastrophic failure of structures burdened with ice and snow.
Commercial Building Heat Loss
Every year, when the mercury dips, energy costs go through the roof--literally! Radiant heat loss presents both a problem and an opportunity for most building managers and their bosses. With a flat roof, things like poor insulation, unprotected ventilation, and bad seals and caulking can lead to up to 25% of all heat being lost. The good news is that identifying and fixing problems can lead to immediate savings.
Infrared Services by Infrared Diagnostic, Your Eyes into Your Roof 
Thermography, or infrared imaging, is the best way to determine building performance issues and associated heat loss problems. We use state-of-the-art technology to identify the root cause of any problems. No upsells or pressure to spend money on unnecessary equipment, we instead rely on years of knowledge in the field to develop and suggest solutions to all of your roofing concerns.
Contact us
or call (978) 440-9900 today to learn about how you can save money and protect your investment.