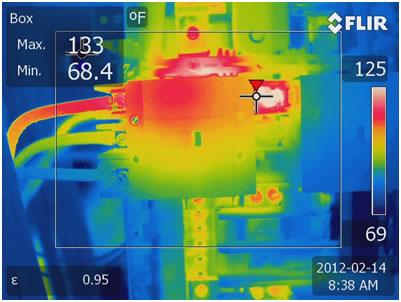 Your commercial building may be your biggest asset—and your biggest liability. Whether existing or newly constructed, your building's maintenance and repair requires diligent oversight to prevent unexpected downtime, lost production and expensive repairs that affect your revenue.
There's great news for businesses located in Lowell, Worcester, Lawrence, and across the eastern Massachusetts region as well as Nashua, New Hampshire. Infrared Diagnostic can help. Our non-invasive infrared services target and identify hidden problem areas before you can see them. That saves you time and money. And it helps keep you on budget while protecting your employees and customers from the risks of mold or structural defects.
Why Is Infrared Diagnostic Better?
The greatest benefit of infrared technology is its ability to pinpoint problem areas without unnecessary destruction or disruption. There's no need to tear into a wall, floor or foundation to look for suspected problems or to replace an entire roof to eliminate leaks.
We use state-of-the-art equipment to perform infrared scans that identify exactly what and where the issues are. This allows you to target your repair efforts and minimize costs while you stay within your energy and repair budgets.
What Can We Do for You?
Our services cover every aspect of your building's structural integrity. And each expert analysis includes a thorough written report with digital images and recommendations for repairs.
Avoid unwanted power failures and reduce downtime while lowering your repair costs.
Don't replace your entire roof if you don't need to. Identify problem areas for targeted repairs and save.
Identify and pinpoint moisture problems that can lead to mold to minimize cost and the risk of exposure to your employees and customers.
Protect the people who use your building by ensuring the structural integrity of your block walls. Infrared technology will identify unexpected damage caused by storms as well as grout deficiencies or blockages.
Reveal defects in insulation and air sealing caused by improper caulking, poor insulation distribution, mold or water damage that traditional digital images cannot detect.
Scan ceilings and heating systems for distribution locations, leaks and defects.
Infrared Diagnostic Is Here for You
Infrared Diagnostic Is Here for You.
Your commercial building may be your biggest asset—and your biggest liability. Unlike other companies performing audits, our services are diagnostic only. So there's no upsell and no ulterior motive. All you get is excellent service from an industry expert using state-of-the-art technology to provide you with detailed analysis. With Infrared Diagnostic you'll be sent a full detailed report featuring every issue that was discovered.
What you do next is up to you.
Protect your building and your business. Call us today at (978) 440-9900 or

contact us

to schedule your infrared diagnosis.